 Online lessons continue to be available as an option
Online lessons will always be possible for those who are uncomfortable with or unable to attend in-person lessons. This is a good choice if a student is unwell, but not so ill as to be unable to have a lesson.
In-person lessons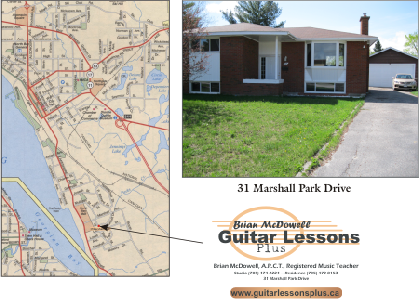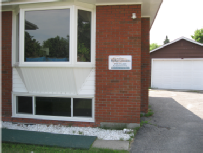 Outside view of my Residence with map
Lessons are on-going throughout the year. You can begin anytime that an available opening fits your needs. Once booked, you retain the weekly time scheduled for as long as you wish.
The "regular season" for lessons runs from the beginning of September until the end of June. Lessons are also available through the month of July and part of August.
Gone are the days of huddling over the same music stand
These pictures illustrate how I have my studio set up so as to make it easy to observe each other which facilitates the process of demonstrating technique as well as making any necessary corrections while still keeping a safe distance apart.
From my student's point of view:
In order to work efficiently, both my student and I have the same piece of music on our music stands. I have a camera directed at my music stand. The image from that camera is displayed on a monitor that is directly in line with my student's view. This makes it possible to point out things in the music that I want them to notice.